Some of you know that the family Boozad finally got the keys to their house three weeks ago after a five-year wait. We're finally out of the tiny flat we were living in and into the house. But man was it a monumental effort to get there?!
Basically we had two weeks to get moved in after I negotiated an extension on the rent for the flat - after I'd been in the house for the first time... It was a total wreck which hadn't been updated whatsoever from the fifties, the plasterwork and brick was shot to shit, the previous owner's dog had left a few presents in the kitchen (old presents
), the boiler was wrecked...
Anyhow, basically I cut myself off from everything, used up 80% of my annual leave from work, sold a few books to finance proceedings and ploughed head first into the task at hand. The previous decor left everything to the imagination, paper had been painted on time and again meaning to strip just the lounge of paper took three days. My nephew gave his all and his help was much appreciated, and I'll apologise about the quality of most of the photos, they were from my phone.
My Dad got stuck in too...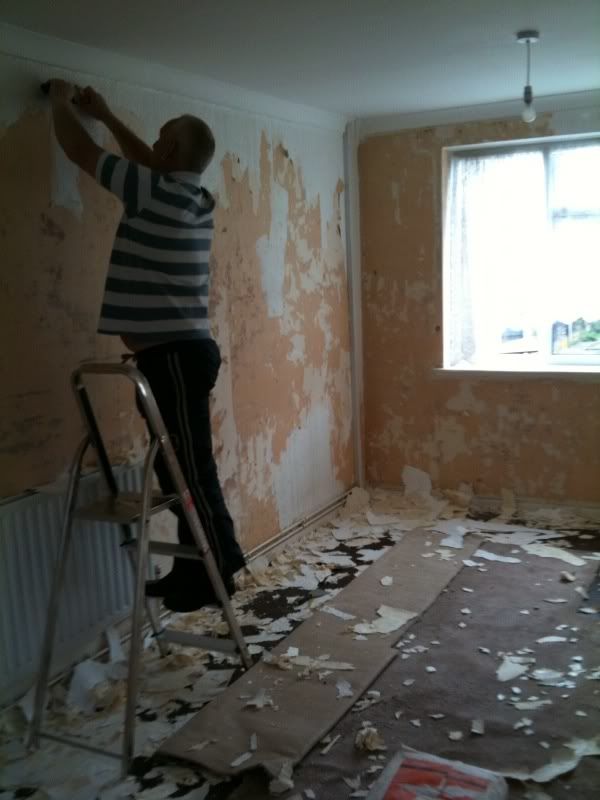 And finally we got it stripped.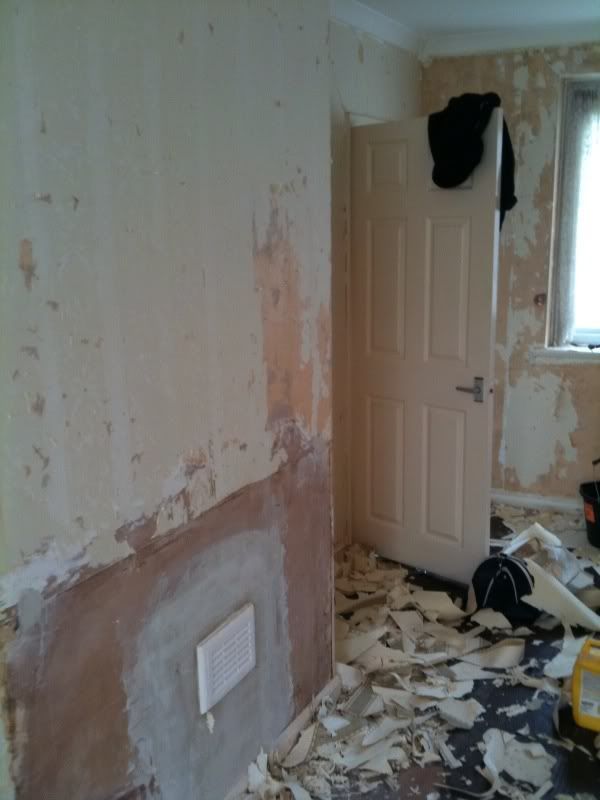 The bedrooms were pretty quick to strip, but were not a pretty sight when they were laid bare...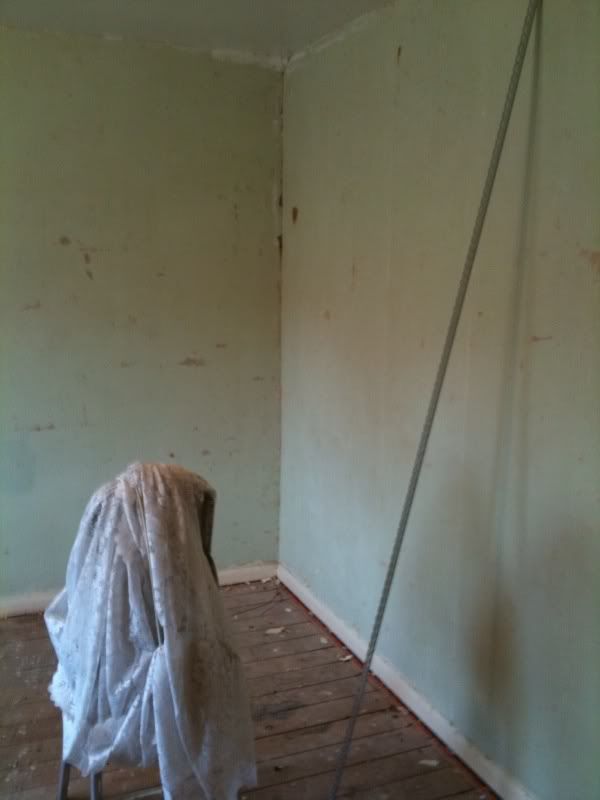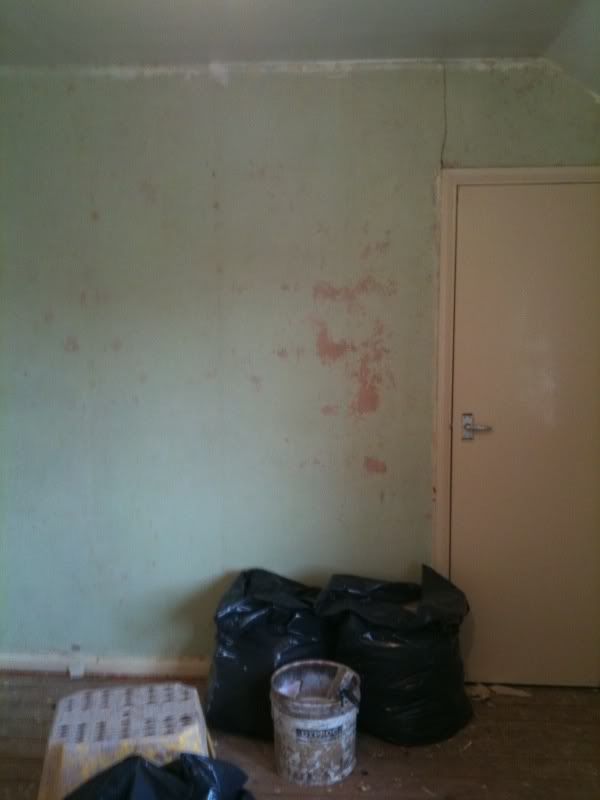 So the first major task (so I thought at the time) was removing this serving hatch. I use that term loosely as whoever had it fitted forgot that a serving hatch needs to open
But on closer inspection I noticed the damp plaster below it
And then worse to come. I tore off all of the skirting board as it looked damp as well, and the plaster on the front wall gave me an even bigger problem. It wasn't attached to the wall anymore, and my plasterer's bill had just doubled.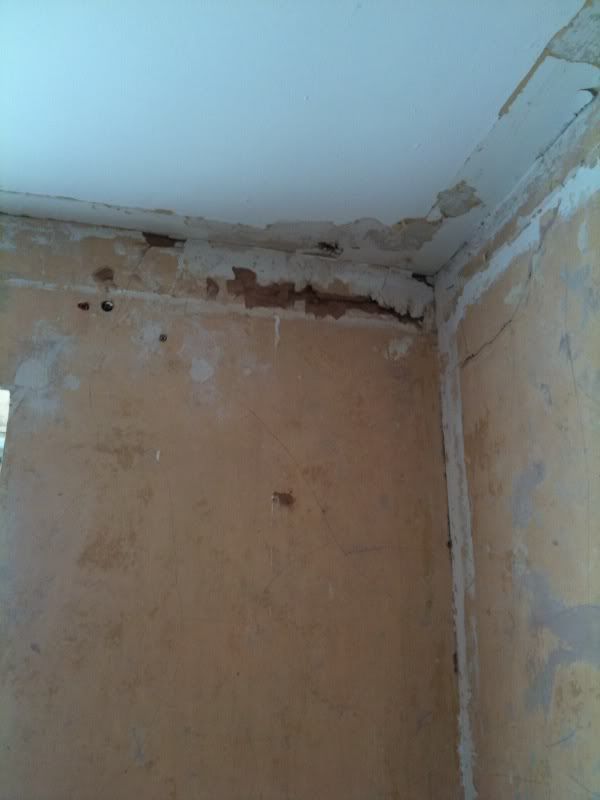 So the front wall got took back to the brick, the plaster and drylining took around 4 hours to remove.
But finally we started to move forwards. The bedrooms got plastered first and then whitewashed.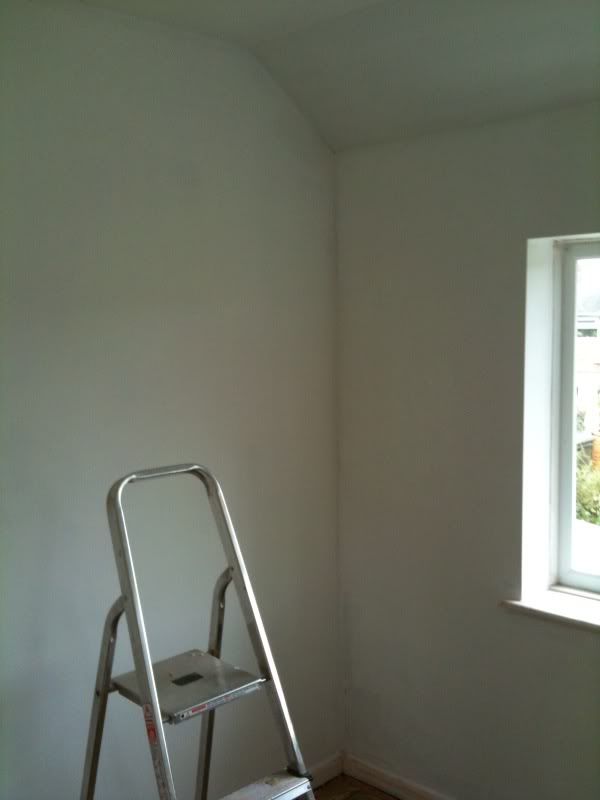 And finally, the lounge got plastered, the serving 'hatch' was gone for good, and I fitted new coving to finish the room off.
Next up came the flooring and carpets. The kids' room by this time was looking a great place to chill out with Cassidy's colour selection! Our room will just stay white, with black and red furnishings. Eventually meh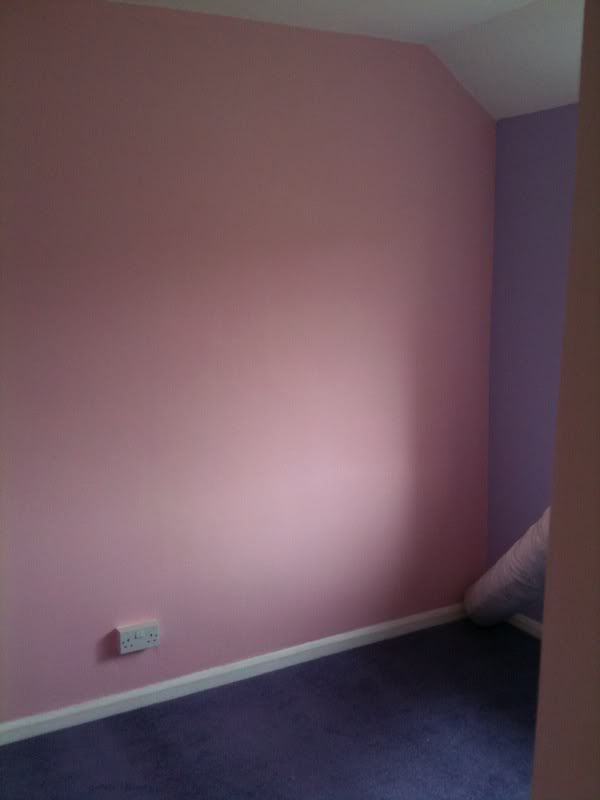 Then lastly the lounge got (virtually) finished. I say virtually as I still have the skirting boards and architrave to fit yet. But after two weeks of stripping, cleaning, knocking out walls, sweeping, moving rubbish and decorating, we could finally move stuff in.
Like I say, we're not quite there yet, but at least I managed to get a big chunk of the work out the way before we got in here. We still have dozens of boxes to unpack and find out where everything is going, but at least the kids have their room and they've settled. A little too well lol
So the mission continues, new light fittings are needed, the bathroom needs ripping out and replacing, doors need replacing, new bedroom furniture is needed... I won't go on anymore. But this is why I haven't been around for a couple of weeks or so, and if you see any sales threads come up from me, this is what it's funding as so far it's bled me dry and I'm now officially broke.
At least my comics made it it one piece, although my slab pile is ever dwindling :cry: